Crocodile Dundee (1986)
Probably the best and most memorable thong scene in cinema history is from the 1986 comedy / adventure movie Crocodile Dundee. Starring Paul Hogan as the titular character and Linda Kozlowski as report Sue Charlton. Sue takes off her skirt early in the movie when she thinks she is not being observed and reveals a very stylish black thong swimsuit.
I suppose fans love the idea that Sue is not risqué averse. Australia, certainly back in the 80s, was considered exotic and cool and the idea of wearing a thong swimsuit must have seemed appealing.
So where does Sue Charlton's thong swimsuit come from? Back in the 80s thong leotard were all the rage. They were popularized by shows such as the 20 Minute Workout and aerobic presenters such as Jane Fonda. But a swimsuit was new. They were first introduced in 1974, but until the 80s never really caught on.
The associate (1996)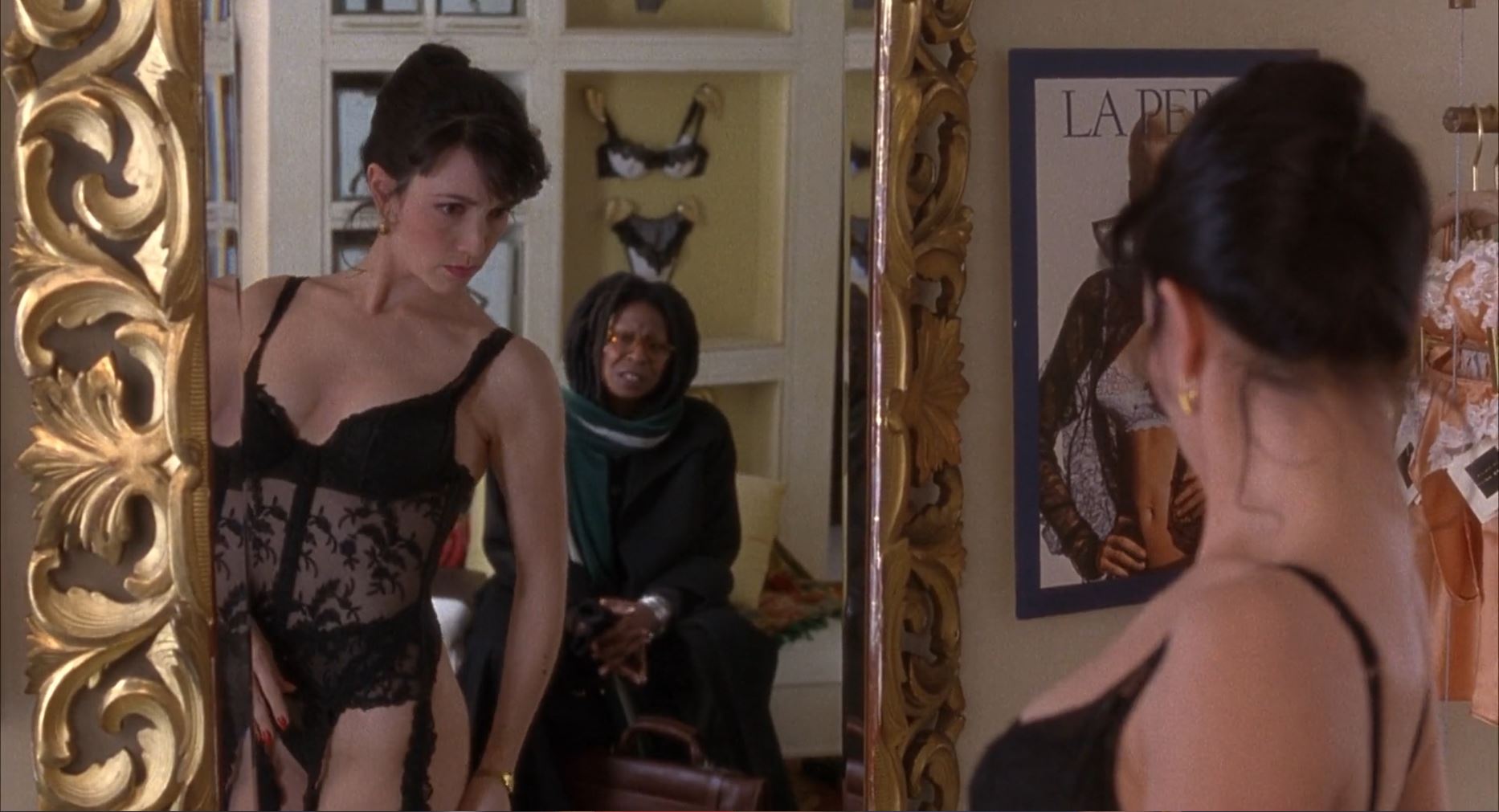 An otherwise unremarkable Whoopi Goldberg comedy from the 90s has one genuine claim to fame. Bebe Neuwirth in a thong wearing a cami-garter. The Associate is a decent comedy, Whoopi's character Laurel Ayres impersonates as a man and her own business partner after she is fired. She becomes a very successful investment banker but along the way people want to meet Robert Cutty, the persona she created. Bebe Neuwirth's character Camille Scott is one of them. Camille has her own way in making it in the man's world. A scene set at La Perla shows her shopping for lingerie and is she explains applying her assets to Laurel. In the scene she is wearing a thong (not quite a G-string) with a cami-garter. The latter is unlike a leotard or body, but more like a bustier, the garter tabs are fitted at the waist. In a second scene in the movie we actually see Camille having cornered Laurel's alter-ego Cutty.
It is perhaps not surprising that Bebe took this role. Her long career as a dancer has meant she had to keep a good figure – something she maintains into Madam Secretary. Wearing a thong leotard and tight fitting outfits makes you self conscious. Bebe Neuwirth has responded several times to her revealing roles in The Associate and Game 6. She states she finds it easy to play sexy roles. Despite the reputation her character Lilith has on shows such as Cheers and Frasier she certainly played it sexy. Her other thong-movie – Game 6 – will definitely feature in this list.
My Father The Hero (1994)
My Father The Hero starring Katherine Heigl and Gerard Depardieu is a remake if the French movie Mon père, ce héros. That movie also starred Depardieu – essentially My Father The Hero is a remake intended for international audiences. The plot is simple. Nicole has to spend a holiday with her father she has not seen in years. As a teenager she prefers to ditch him and hang out with other teens. She makes everybody believe her actually her lover to pretend to be older. It's a comedy, not a good one, but it is decent. However, the movie is mostly famous because it launched Katherine Heigl's career when aged 15 she wore a particularly revealing thong one-piece swimsuit. There is a similar scene in the original movie. Now when I saw the movie for the first time – aged about 11 or 12 at school I remember catcalls and whistling when the scene played.
Game 6 (2006)
The second thong scene of Bebe Neuwirth's career is in Game 6 – a drama movie by director Michael Hoffman. The movie is set in 1986, but it often feels more contemporary. This is also evident with the thong Bebe is wearing – it is actually a G-string. Just as in The Associate she is wearing a cami-garter set to complete the outfit. As a normal garter belt would have been more likely to wear I can't help but feel the choice is personal. The scene in Game 6 plays out as the principal character Nicky Rogan (Michael Keaton) is making love Joanna Bourne – Bebe's character. The second half of the scene depicts how Joanna replaces a torn stocking. Unfortunately the still images below are of low quality. Game 6 is not available in high resolution.
To Gillian on Her 37th Birthday (1996)
Overboard (1987)